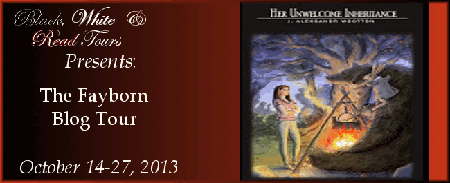 Wysteria is introduced near the end of HUI as Petra's dorm roommate at Lightfoot, they quickly become good friends and she is a very key character in TES. As an orphan she dislikes being alone. Contrarily however she is an avid reader of fantasy, paranormal and historical romance as well as believing in fairies. She likes boys
even better than fairies – but isn't into the Greek scene. Wants to be dating before first semester ends and find Mr right by Thanksgiving.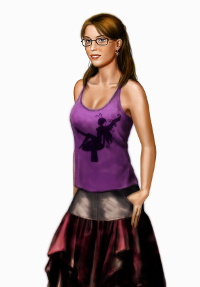 1 You and Petra drink hot chocolate at stressful times. Is that your go-to comfort food or do you have another favorite?

Oh, pretty much any hot beverage is great! Hot chocolate and fruit-flavored tea are easiest in the dorm, but I'm pretty much always up for a coffee run at any hour of the day or night. Oooh, and let's not forget chai!
The only hot drinks I really don't like are instant cider and mulled wine. Blech.

2 In The Eighth Square you make a discovery about yourself that changes much of what you've "known" for almost two decades. As you grow in this new identity many things change in your abilities and personality. How do you feel about the abrupt change in who and what you are especially in a world where you were already different?

Gosh, where to start? I mean, on the one hand everything I'm learning and remembering about being a fay is a serious rush, and I have to be really careful. Sometimes I feel like I'm standing on top of a tall tower, and next thing I know I might be flying or falling to my death.
Even before this happened, I feel like I was mostly over my adolescent issues about not fitting in… though I guess I still care what other people think. My older self totally doesn't care at all. I can be caught between wanting to be liked and despising everyone all at the same time.
I've thought about locking myself in my room between classes until I mellow out, but I have no idea how long that will take and the idea of it is just depressing. Besides, Petra needs me. I guess I'll manage.

3 Does discovering the betrayal of someone you trusted and thought you loved before discovering your true identity sour you on the idea of love and relationships that you were so eager for early on?

What? Haha. Yeah, that was pretty embarrassing. I wouldn't say it's soured me – there's plenty of fish in the sea, ya know?
It's weird though… the adolescent me is still all about boys, but I think maybe I feel ready for someone… older. Ever since I started to remember who I am – you know – I keep having these moments where I'm checking out a hot guy and then suddenly he looks super-young. And then I glance around and pretty much all the guys on campus look like babies, but a professor or librarian will catch my eye. My brain kinda switches back and forth without warning. Until that settles down, it's going make any relationship pretty awkward. Even going on a date might be too weird right now.

4 How would you and Jamie get along if the two of you ever meet? Being Petra's closest friends there must be some commonalities besides proximity at the time she connected with you so it would be interesting to me to see what would happen if you ever met.

Hmm. I've heard a lot about Jamie from Petra, probably more than she's heard about me at this point. To be honest, I think if Petra had another best friend in her life right now I'd feel a little jealous. If Jamie felt the same way about me, I could see that not ending well… for her! Joking. Umm.
Jamie sounds like a good person though, so as long as she didn't try to monopolize Petra as the "childhood friend" or whatever I'd make an effort to be nice, for Petra's sake. It would probably be fine. I hope.

5 When you all were getting rid of Petra's nightmare you seemed to conjure a resolution that was rather complex without intending to. This happened shortly after you initially discovered who and what you are. Was that spell somehow instinctual out of your desire to protect Petra?

Maybe? I'm actually still not sure about that one. For all I know one of my sisters conjured the spell, probably from a desire to protect us, and then put in my hands. I hardly knew what I was doing.
Since then I've gotten my sisters to teach me the spell, just in case we have to fight some other incorporeal monster. I really hope not, though. Seeing your best friend possessed is really, really creepy.

6 Can you give us a preview of your role in the next installment of the Fayborn saga? (Without giving away too much of the story of course)

Well, based on everything that happened right at the end of The Eighth Square, obviously I have a lot to figure out in the next book. I have some really horrible suspicions about my sister Deirdre – where she went, and what she might have done. I don't dare say more – I can't even confide in my other sisters.
Until I can be sure what happened, I might have to leave Petra and the others on their own. I'm not sure it's safe for them to be around me, or for me to know where they are. If my suspicions are correct, I might be endangering their lives and not even know it. There's too much I haven't remembered yet about the people I and my sisters used to be.
Basically, I'm realizing that I really have no idea who I was. At all. And that's really scary.
Hopefully I'll figure it out in A First or Final Mischief.

Her Unwelcome Inheritance (book1)
Jason M. Smith (July 30, 2012)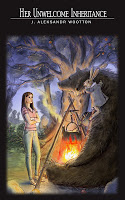 Petra Godfellow is ready – a little nervous, but ready – to grow up and leave home. She doesn't know the family secret – about the man who loved her mother, who never could accept that it was over between them…
….who's crazy enough to believe that he's the king of Faerie.
As Petra begins her first semester at Lightfoot College, she'll be forced to navigate her own doubts when people she respects reveal their beliefs in the absurd and impossible. She'll be stalked by the supernatural, asked to bargain with unfriendly powers for the fate of another world.
And it's not just her future that's in danger – it's her mother, her aunt, her best friend – and thousands of refugees from a centuries-old civil war in Faerie who are tired of staying in hiding… (ISBN#9781491291009 Print 9781301949687 eBook, 178pp, $9.99 print list, $3.74 eBook list)
Find More Info or Purchase HUI:
Amazon, iBooks, Barnes and Noble, Kobo or Smashwords
The Eighth Square (book 2)
J Aleksandr Wootton (Sep. 25, 2013)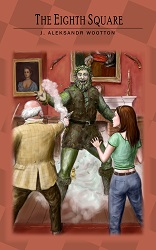 Dodging unwelcome encounters with the supernatural is making Petra Godfellow's freshman year very difficult.
Emissaries from the imprisoned Faerie Queen are looking for her. Members of the Green Kingdom Militia watch her everywhere she goes. Worst of all, servants of James Oberon keep trying to kidnap her. All because they believe that Petra is a direct descendant of Robin the Puck, and therefore endowed with special powers that can help them.
Petra is pretty certain she doesn't have any special powers. She didn't know anything about Faerie, or the thousands of Fayborn refugees living in hiding here on earth, until this past summer. She's still not sure she believes any of it; after all, her aunt, her godfather, and her roommate do seem a bit crazy.
Petra's friends and family have tried hard to keep her safe so that she can have the 'normal' college experience she wants, but the Fayborn seeking her help are getting desperate… (ISBN#9781492860945 print 9781301752799 eBook, 153pp, $9.79 print list, $3.48 eBook list)
Find more Info or Purchase TES:
Amazon, iBooks, Barnes and Noble, Kobo or Smashwords
Meet J Aleksandr Wootton: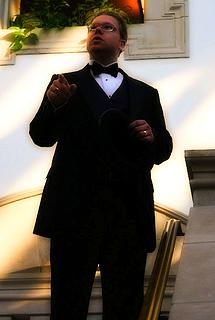 J. Aleksandr Wootton is the author of the Fayborn novel series and a miscellany of other writings, many of which are available on various sites around the web.
He is also professor of folklore at Lightfoot College. His research focuses mainly on post-war Faerie, and on accounts of meetings between humans and sojourning fay.
He enjoys cooking, gardening, and long conversations accompanied by a well-brewed pint.
Find Jack on the Web:
Jack's Website, Blog – Smithy of the Written Word, Twitter, Goodreads and Fayborn Facebook
Visit Other posts on the tour:
Original Material&nbsp© 2007-2016 ~Bibliophile's Retreat~ "All Rights Reserved"
Other Material Property of Respective Creator(s) Posted by Permission.
-- Copyright notice by Blog Copyright